Should you buy a Samsung 55 inch TV? In this guide, we'll look at the potential cost of a Samsung 55-inch 4K TV, as well as the exact dimensions you can expect from the size of this flagship TV.
55 inches is the standard size for new TV these days, big enough for a home cinema but small enough that it doesn't take up all the space in a typical living room. While 65-inch TVs are making progress in specific categories (such as OLED TVs), and the average TV size continues to increase, 55-inch remains the main size for most new screens, so it should be your starting point when updating your screen.
But it's not just size that's convenient; Samsung 55-inch TVs will also have most, if not all, of today's important panel technologies, such as 4K resolution, HDR (and HDR10+) and the like. On cheaper models, you might have to settle for bezel-lighting (for example, on the Samsung Q60A) or a lower-spec processor, but overall the standard 55-inch size pretty much means you're getting a standard, if not excellent, experience. (Just don't expect Dolby Vision.)
So, if you're starting to evaluate what kind of new TV is right for you, here's everything you need to know about Samsung's 55-inch TVs.
What is the size of the Samsung 55 inch TV?
This may seem like an obvious question, but the 55-inch gauge for 55-inch TVs only refers to the diagonal length of the screen, from the bottom left corner to the top right corner. This means that you still need to consider the exact measurement of screen width, height, and depth to ensure that you are not surprised when you open your shiny new screen.
This year's flagship Samsung QN95A 4K measures 1,227.4 x 706.2 x 25.9 mm (W x H x D), when you consider only the screen itself. So you should be sure to measure the spot in the house where you plan to place your new TV, to make sure you have an actual space for it.
This 25.9mm depth is pretty slim and pretty standard for most Samsung TVs – even the affordable 55-inch AU8000's 25.7mm – although the type of TV stand that came with the monitor can mess things up. The center mount used on the QN95A will increase the depth to 235.2mm, while the more compact feet used on the AU8000 expand the depth to just 228.8mm.
It is important to make sure there is room for a stand or feet if you are going to put a 55 inch Samsung TV on a table; Meanwhile, if you're mounting the screen to a wall, you'll need to make sure the screen can be aligned relatively to it.
What are Samsung 55 inch TVs?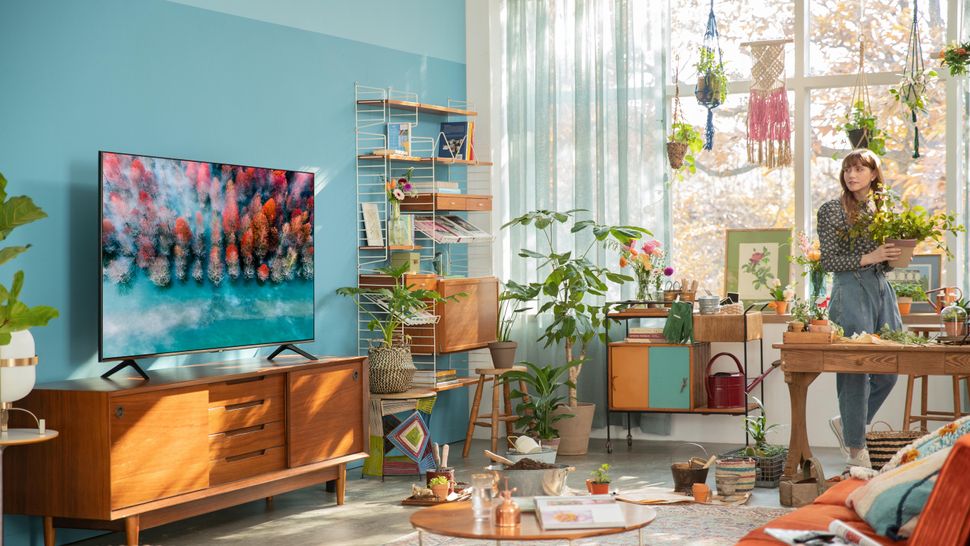 Like we said, there Many From 55-inch Samsung TVs – almost every Samsung screen will appear on a model this size. The bottom of the range starts with Crystal 4K UHD TVs, then moves on to QLED 4K TVs (with Quantum Dot filters to improve contrast and colour), then Neo QLED 4K TVs (with small LED backlights for improved brightness control), and then even Neo QLED 8K TVs (with precision 8K instead of Ultra HD).
There is, in fact, a 55-inch 8K TV coming out every year (last year's Q700T, or this year's QN700A) although you'll only get it in the UK and Europe, not the US. Also at 55 inches, you really won't be able to see the benefits of 8K resolution, as the pixel density is too high to tell the difference unless you're very close to the screen.
Samsung also has a range of lifestyle TVs that carry QLED panels, such as the Samsung The Frame (a stylish TV designed to look like a picture frame when not in use) and the Samsung Serif (a stand-style screen), both of which come in 55-inch sizes. However, the Samsung Sero, a rotating TV designed for viewing vertical videos and scrolling through social media channels, only comes in a 43-inch size.
How much does a Samsung 55 inch TV cost?
Prices vary greatly across new Samsung TVs, with a huge range of models, sizes, and panel technologies to choose from.
Keeping the above examples, the affordable AU8000 costs $599 / £679 / AU$1,195 for the 55-inch – although this is a 2021 model, and therefore slightly more expensive than older models (last year's 55-inch TU8000 retail vs. $550) in the US, while the TU7000 costs $450 for the same size).
It's possible to get 55-inch Samsung TVs for even less, although for a true budget model you'll likely have to look at a cheaper brand like Scepter or Insignia – at these prices it might be safer to opt for a smaller TV. This does not need to make many pixels.
On the higher end, new Samsung monitors can cost several thousand dollars/pounds. You'll get the Samsung QN90A (the 4K flagship in the US) for $1,799 / £1,799, while the QN95A retails in the UK for £1,899 in the same 55-inch size. For a Samsung 55-inch screen, that's basically what you're paying the most for though.
You can watch the latest offers on Samsung 55 inch TVs below.